Patented ergonomic design
Food-grade 316 stainless steel
Includes single VitaBead Diffuser (400 refills)
Increases pH up to 9+
Reduces ORP (Oxidation Reduction Potential) to less than -150
Removable food-grade silicone sleeve for added grip
Stainless steel bamboo cap with convenient carrying handle
BPA-Free & liner-free
Holds 750mL (25.4 oz) of alkaline water
Includes Diffuser Removal Tool *New & Improved
FEATURES
WHAT'S INCLUDED
SPECS
Add Extra Diffusers
Select Amount
What does drinking Alkaline

+

Antioxidant water do for your health?
Hydrates your body faster
Helps digestion & acid reflux
How does it work?
The DYLN Patented Bottle System was created to enhance water simply.
Customer Reviews
Write a Review
Ask a Question
Filter Reviews:
water
bottle
Dyln
taste
body
difference
family
home
health
life
01/11/2018
Vanessa C.
Macleay Island, Australia
I take my DYLN Water Bottle everywhere
When I was rediagnosed with Metastatic Breast Cancer I needed to find a way to stay as healthy as possible for my body to have a winning chance and beat these tumours that are growing rapidly. Alkaline was mentioned so many times, that I knew it was on my list of fighters. I have had my DYLN water bottle now for over 12 months and I love everything about it. The quality and it's sleek style in Stainless steel with the hand grip tops off the look of this bottle. All the magic happens inside with the replaceable Diffuser that is used to create alkaline antioxidant water and has a 400 refill lifespan. I know this has helped me stay healthy and in 18 months I have shrunk both tumours by 70%. Thank you DYLN, your water bottle has been very appreciated. I have recommended your bottle to my friends and now they are taking their DYLN water bottle everywhere.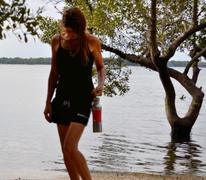 09/13/2020
Oscar C.
Mexico
The best idea to come along in a long while
I love using my Dyln bottle. So much that I bought one for my daughter and also bought another two to have as spares because I'm very rough with them. My original is all bent up on the bottom because I've dropped it full of water and it deformed it that it wouldn't stand on it's own anymore. So I had to take a hammer to it to flatten it again. Anyway I really love it and plan to get the newer insulated bottle soon. Thank you so much for providing a fantastic product.
09/02/2020
Timea W.
Norway
09/02/2020
Sandra T.
United States
good job
havent noticed great changes because I have ***** alkaline water years. It is so much more convenient now. Not sure about how often and how to wash it. Would like more info on taking care of my bottle
Happy to hear that you're finding the DYLN more convenient. How often to clean your DYLN Bottle comes down to personal preference, it can be similar to how often you clean any other reusable water bottle. We have more information on how to clean your DYLN Bottle in the Use and Care section of our FAQs here: https://www.dyln.co/pages/contact-us#contact-faqs-4
08/23/2020
Tana M.
United States
Great taste
Fits well in my hand.
08/04/2020
Craig H.
United States
Great look and function
Am very happy with the bottle and it's function. My only disappointment: I dropped it accidentally when it was full and dented the bottom. You previously offered a silicone base but I don't see it on the site anymore. Would love to have one, don't care what color
We now have Bottom Guards available for pre-order! You will want the X-Small size for your Original DYLN Bottles. You can find them here: https://www.dyln.co/products/small-bottom-guard