DYLN Bottle 32 oz Wide Mouth
DYLN Bottle 32 oz Wide Mouth
Create Alkaline Water on-the-go and keep it cold for up to 24 hours. Holds 950mL (32 oz) with a vacuum insulated 316 Stainless Steel construction that includes a replaceable VitaBead Diffuser (315 refills) and Removal Tool.
See Features
Add Extra Diffusers
What does drinking Alkaline

+

Antioxidant water do for your health?
Hydrates your body faster
Helps digestion & acid reflux
How does it work?
The DYLN Patented Bottle System was created to enhance water simply.
Detail oriented design
+
High quality materials
Plastic-free water
Bottle cap interior made out of Stainless Steel so your water never comes into contact with plastic. Super-easy to clean Silicone Gasket.
Detail oriented design
+
High quality materials
Ergonomic Design
The Bottle's shape and powder coated finish make it super easy to grip and hold comfortably while being sweat free.
Detail oriented design
+
High quality materials
Triple-layer vacuum insulation
304 Food-grade Stainless Steel exterior and Surgical-grade 316 Stainless Steel interior with a copper liner.
Detail oriented design
+
High quality materials
Portability
Flexible and easy-to-carry Bottle cap handle.
Detail oriented design
+
High quality materials
Wide mouth
For easy drinking and adding ice cubes to keep your water cold for up to 24 hours!
Customer Reviews
Write a Review
Ask a Question
Filter Reviews:
water
bottle
Dyln
taste
family
difference
purchase
body
stars
size
03/19/2020
Eliatha
United States
Best Invention Ever!
This Was the best purchase I've ever made! I got the blue and black insulated bottles back in September and my boyfriend and I love them! We do not go anywhere without them including out to eat. After drinking my alkaline water everyday for so long, nothing else compares to the taste and the results I've gotten. My body stays hydrated and it's a noticable difference from when I drink regular water. Also I lost my job at one point and wasn't able to purchase a replacement diffuser for a few weeks after my diffuser needed to be replaced. So my water wasn't alkaline anymore and my body went back to how it used to be before DYLN. My face started randomly breaking out again (I didn't even realize the water was the reason my skin was clear in the first place). I was always super thirsty, and I felt a slight decline in my health. But once I was able to buy a new diffuser the alkaline water fixed me back up within a few days! I learned my lesson and I will always have extra diffusers because I can't live without my alkaline water! Thanks so much DYLN!
01/11/2020
Robert P.
Canada
Don't read this review!!
I warned you... I know you're gonna feel ridiculous that you haven't already bought the best water bottle on the market and that you could have been drinking the cleanest tasting water with super high pH levels that does your body good! Now forget feeling shame that you've waited this long and do your body and yourself a favor and get a DYLN bottle! Go on... get going... stop reading and hit the purchase button!! Now..... do it now!!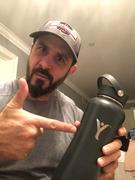 09/25/2020
Michelle L.
United States
09/23/2020
Kian H.
Singapore
Review : the DYLN experience so far
I started using DYLN about six weeks ago, and so far, no complaints at all. In fact, I am enjoying drinking alkaline water exclusively as I have stopped drinking water from other sources. But I do not measure the ph level and would love to, if I have the necessary equipment. Where can I get one?
09/22/2020
Jennifer G.
United States
09/08/2020
Rhonda H.
United States
Bottle
Love this bottle. Thank you
09/08/2020
Cecilia C.
United States
09/06/2020
ANTHONY A.
Saudi Arabia
Awesome
I was suffering with acid reflux for years . Im taking my medication also. Im tired and sick of it !!! Then when i saw this DYLN... I think this is the solution on my product . After 1 month of using . I got a great result . NO MEDICATION and NO stomach upset. GREAT and LOVE IT i will buy also for my mom and sister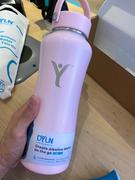 !
DYLN Blue
DYLN Bottle 32 oz Wide Mouth
$49.99