Alkaline Water Anywhere
Why purchase expensive premium water when you can make your own? DYLN Living Water Bottle creates alkaline, antioxidant whenever, wherever while reducing plastic waste.
Simply fill and drink.
Its sleek, easy to hold, my water tastes great, and I like knowing I am helping cut down the plastic pollution.
—Elizabeth M.
Patented Ergonomic Design
The sleek and stylish shape of the DYLN Bottle fits perfectly in your hand. It's iconic design has ideal holding capability.
316 Stainless Steel
The highest quality surgical-grade non-magnetic, stainless steel available.
VitaBead Diffuser
The replaceable Diffuser used to create alkaline antioxidant water has a 400 refill lifespan.
BPA-Free & Liner-Free
Because the stainless steel does not leach, there is no interior liner. The bottle is also free of any BPA or plastic.
Cap with Carrying Handle
The cap is made from 316 stainless steel, bamboo, and food-grade silicone sealer.
Diffuser Removal Tool
The new and improved Tool helps you remove and insert your VitaBead Diffuser for cleaning or replacement.
Removable Silicone Sleeve
The food-grade removable sleeve offers added grip and aesthetic appeal.
Maximum Volume
The DYLN Bottle holds 750mL (25.4 oz) of alkaline, antioxidant water.
Alkaline Water
Increases the pH up to 9+ and reduces the ORP to less than -150 to create alkaline antioxidant water.
Customer Reviews
Customer Reviews
Write a Review
Ask a Question
Filter Reviews:
bottles
water
difference
taste
bottle
Dyln
family
water bottle
home
body
02/12/2018
Michele V.
Brookfield IL
01/12/2018
Vanessa C.
Macleay Island, Australia
I take my DYLN Water Bottle everywhere
When I was rediagnosed with Metastatic Breast Cancer I needed to find a way to stay as healthy as possible for my body to have a winning chance and beat these tumours that are growing rapidly. Alkaline was mentioned so many times, that I knew it was on my list of fighters. I have had my DYLN water bottle now for over 12 months and I love everything about it. The quality and it's sleek style in Stainless steel with the hand grip tops off the look of this bottle. All the magic happens inside with the replaceable Diffuser that is used to create alkaline antioxidant water and has a 400 refill lifespan. I know this has helped me stay healthy and in 18 months I have shrunk both tumours by 70%. Thank you DYLN, your water bottle has been very appreciated. I have recommended your bottle to my friends and now they are taking their DYLN water bottle everywhere.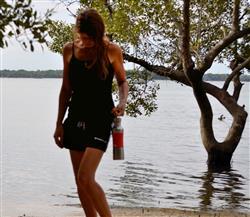 03/28/2020
Korinna F.
Canada
Second bottle
Love it. Easy to change filter and easy to clean, upped my ph by two points within 20 Minutes . Way cheaper then buying ph enhanced water
03/28/2020
Alison H.
Canada
Dyln Bottle love it
I love my water bottle. And my husband loves his as well. I just wish I could get the same ones for my kids but they have been discontinued. Such a shame as the new ones are a little to large
Hi Alison, We have children's sizes coming out this summer :) stay tuned!
03/27/2020
Brett R.
United States
Easy way to get great water
I now have 2 and that's the best endorsement for a product.
03/25/2020
Chelsea C.
United States
❤️
Love this bottle. My boyfriend liked mine so much I bought him one too
03/23/2020
Austin S.
Antigua And Barbuda
My DYLN bottle
Really good. I am drinking more water so I refill my bottle at least 3 times daily. My 2 year old grand daughter loves to drink from it. It would be nice to be able to check the phone though
03/21/2020
Sheri
United States
Love my DYLN
My daughter was given one of the original bottles and I ended up using it and loving it. So when the new insulated bottles were introduced, I knew I needed one. I placed my order, and received it within a decent amount of time. I loved it even more than my first bottle, so I ordered several for co-workers that are very health conscious. Great reviews all around. It was definitely worth the wait!!
Frequently Asked Questions
What are the VitaBeads made of?
The VitaBeads are a proprietary blend of all-natural minerals - containing magnesium, tourmaline, zinc, and silica.
How do I know when to replace my Diffuser?
By
registering your DYLN Bottle
, you will be reminded when it is time to replace your Diffuser, which is based on your usage preferences and the recommended 400 refill lifespan of each Diffuser.
How long does it take to alkalize the water?
The Bottle will start alkalizing the water immediately, and takes approximately 15-20 minutes to reach an optimal level of more than 8.5 pH.
How do I remove the VitaBead Diffuser?
Each Bottle comes with a Diffuser Removal Tool to easily remove the diffuser for cleaning or replacement. Go
here
to view the simple 4 step process.
How do I clean the DYLN Bottle?
The DYLN Bottle is dishwasher safe without the diffuser, cap and sleeve.
Do I have to use filtered water with the DYLN Bottle?
The DYLN Bottle was designed to enhance water by creating alkaline antioxidant water. Since the Bottle does not filter water, we recommend using water that is already clean enough to drink.